An introduction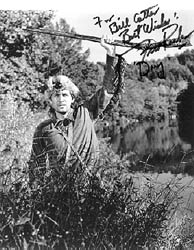 I have been collecting Disneyana for years - more years than I care to admit! Working for Disney for several years certainly helped me pick up a great variety of things.
Along the way I have assembled a large collection of publicity photos from Disney's live-action films. This is a list of all of the films that I currently have extra photos from. You can see a detailed list on-line (250K), or you can download a Zipped version (88k) of the file. It's also available as a PDF file.
These are all Disney originals, not duplicates. They're all extras from my collection. I have several copies of some and one of others, so it's first-come, first-served. Almost all of them are 8x10 B&W photos. Prices range from free (yes, free) to $3 each, plus postage ($8.95 for US orders - please inquire for international orders). Prices for each film are included on the detailed listing. Also, I will gladly trade two-for-one for any original Disney photo you may have that I don't have in my own collection, or for other Disneyana. Please write me and let me know what you have!