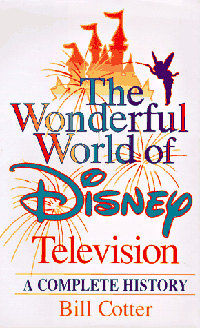 During the years I worked for Disney I put together a number of employee presentations on the company's old television shows, using that as an excuse to get these shows out of the vault so I could see them again myself. I researched the history of the show to help in introducing them, often tracking down some of the original cast and crew. As time went by I got to be known as the "old TV show guy" and got calls from across the company asking for information. The calls continued even after I left Disney to work for Warner Bros., making me think there just might be enough interest in the shows for a book. Happily I was eventually able to convince Disney that there was, and they gave me complete access to the Disney Archives.
After literally years of watching all of the episodes, the result was "The Wonderful World of Disney Television," which was released in 1997. Here's part of the press announcement from the book's release:
THIS FIRST-EVER HISTORY OF DISNEY TELEVISION IS PERFECTLY TIMED TO COINCIDE WITH THE RETURN OF THE WONDERFUL WORLD OF DISNEY TO SUNDAY NIGHT PRIME TIME ON ABC.
From the much-beloved Disneyland and Zorro to recent hits like Ellen and Home Improvement, Disney television is a cultural institution that has added joy and laughter to the lives of millions of Americans from the 1950s to today. The Wonderful World of Disney Television is a fascinating, comprehensive history of all the Disney television shows ever produced, from the ones we loved to watch as children to today's top-rated programming. Rich with photographs, little-known details, anecdotes, and vital statistics, this fascinating collection fully describes each of the Walt Disney television shows, including complete schedules of aired episodes, seasonal highlights, production details, behind-the-scenes stories, full cast and crew listings, and plot synopses - and shares important moments in Disney's television history such as how Walt got into television in the first place!
A treasure trove of nostalgia - coinciding perfectly with the prime­time return of The Wonderful World of Disney on Sunday nights, now on ABC ­ The Wonderful World of Disney Television is the first book of its kind and exactly what fans have been clamoring for.
Bill Cotter began compiling information on Disney's television history when he worked for the Walt Disney Company between 1976 and 1982. The co­curator of the Chicago Museum's exhibit "The Genius of Disney: The Television Years," he has written more than 200 magazine and newspaper articles on the history of movies and television. He lives in Granada Hills, California.
$24.95 - 7" x 10" hardcover with color dust jacket
628pp. plus two black­and­white photo inserts
$33.95 in Canada
ISBN 0­7868­6359­5

The book is now out of print and I no longer have copies available for sale. It can often be found on eBay - happy hunting!
When I started writing my book I had no idea what a herculean task it was going to be, or how big many pages the boom would be. When I finished it turned out I had a little problem.
Disney was thinking about a 300 page book.
I wrote 1,100 pages.
Thanks to a wonderful editor (Monique Peterson) we ended up with a reasonable comprise, 635 pages. While I would have loved to see all it in print, some of the text had to go to get the book to a salable size. Happily I retained the copyright to the unused material, and am including some of it here. All of the cut appendixes are available on CD. Click on the link above for details on how to order a copy.
Some notes since the book was released
February 3, 2001 - "The Wonderful World of Disney Television" went on sale in September, 1997. So far it has sold more than 25,000 copies, so it was gratifying to learn that I am not the only one with an interest in Disney television! I've had the pleasure of appearing at several conventions, including the 1997 Disneyana show in Orlando, the NFFC 1998 Kick-Off and the NFFC 2001 Convention. Perhaps the biggest thrill was appearing on CNN to discuss the book and the return of the anthology series to ABC; they sent a film crew to the Disney studios to interview me, which certainly impressed my family! That has led to a number of projects for Disney, including helping Michael Eisner's office with research for his opening segments, and for some Disney Channel shows as well, and interviews in TV Guide and quite a few newspapers. Additionally, I contributed to a CD-ROM biography of Walt Disney sponsored by the Disney family, and had the pleasure of speaking at Disneyland with Diane Disney Miller and several other Disney historians.
---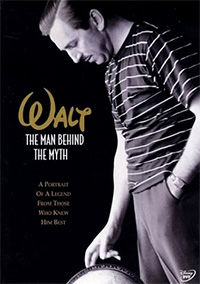 Walt: The Man Behind the Myth (2001)
I was thrilled at being interviewed for "Walt: The Man Behind the Myth", a documentary on Walt that aired on ABC on September 16th, 2001, and later on A&E. I was asked to participate by the Disney family, and it was quite an honor to be part of the show. The experience was somewhat intimidating being on the same program as some pretty famous contributors, but it was a very special event for me and my family. The show has since been released on VHS and DVD.

---