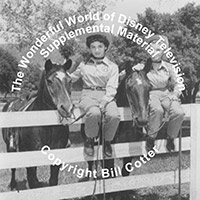 In 1997 Disney published my book "The Wonderful World of Disney Television." Although the book came in at 625 pages, it still wasn't enough to contain all of the information I had found on the various shows. In fact, the original manuscript came in at 1,100 pages, and since Disney had been expecting a 300 page book, it was necessary to get out the editing pencil and slim the book down.
One of the first things that had to go, unfortunately, was a section of appendixes. These pages contained detailed information on the daily contents of "The Mickey Mouse Club", awards won, shows that were considered but never produced, etc. The complete list of appendixes is below - just click on the links for a sample page of each appendix.
A - Specials Schedules
B - Anthology Series Schedules
C - Mickey Mouse Club Schedules
C-1 Year 1
C-2 Year 2
C-3 Year 3
C-4 Year 4
C-5 Syndication Year 1
C-6 Syndication Year 2
C-7 Syndication Year 3
C-8 The Mickey Mouse Club Credits
C-9 The Disney Channel Mickey Mouse Club
D - The New Mickey Mouse Club Schedules
D-1 Year 1
D-2 Year 2
E - Zorro Schedules
F - Limited Series Schedules
G - Animated Series Schedules
H - Disney Channel Schedules
I - Touchstone Schedules
J - Bibliography
K - Publications
L - Awards
M - Records
N - The Shows That Never Were
O - Merchandising

I gathered all of these appendixes together and put them on a CD in Adobe Acrobat PDF format. There's a full 256 pages of material that should be of interest to Disney television fans. This CD is $10 plus Priority Mail postage. Just use the link below to order and pay through PayPal. If you want the CD shipped via First Class Mail or sent overseas please send me a message with your address so I can check the actual postage for you. I can also send the files electronically and save you the postage cost. Please use the contact link at the bottom of the page if you have any questions.