The history of Zorro
One of the more enduring heroes of modern literature and film has been Robin Hood, who has become famous for "stealing from the rich and giving to the poor". The Robin Hood legend, one of a skilled fighter who strives to overcome the unfair oppression of the people by a tyrant, is an easy one for fans to identify with. It's not surprising that there have been several variations on this theme, with one of the most successful being Zorro.
Zorro, which is Spanish for "fox", is the story of a masked rider who battles the unjust rulers of the pueblo of Los Angeles during the days of Spanish rule. His real identity is that of Don Diego de la Vega, the son of a wealthy landowner. Diego returns from his studies in Spain and discovers that Los Angeles is under the command of Capitan Monastario, a cruel man who relishes in the misuse of his power for personal gain. Knowing that he cannot hope to single-handedly defeat Monastario and his troops, Diego resorts to subterfuge. He adopts the secret identity of Zorro, a sinister figure dressed in black, and rides to fight Monastario's injustice.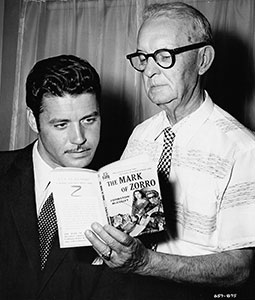 Zorro was created by writer Johnston McCulley, seen here showing one of his books to actor Guy Williams. The first Zorro story, The Curse of Capistrano, appeared in 1919 in All-Star Weekly, which later became Argosy magazine. More than 65 Zorro books and short stories were to follow, with an estimated 500 million readers around the world following the masked avenger's exploits in 26 languages, before McCulley's death on November 22, 1958 at age 75.
With that sort of reader interest, it was inevitable that the Zorro story be made into a film. In fact, there have been many filmed versions, beginning with Douglas Fairbanks Sr.'s portrayal of Zorro in the 1920 silent production The Mark of Zorro. Tyrone Power scored a huge hit with a 1940 remake of that film, and several other Zorro films and serials were also produced over the years.