Deco Week
Finally, after months of welding, hammering, electrical work, wood work, and a myriad of other construction tasks, the float was ready to decorate. Some of this work had been done as items were finished and we could test some of the chosen decorative materials, but 99.9% of the decoration is done in the week between Christmas and New Year's. It's a very busy time indeed.
Carol had worked on many floats up to now, and had picked up a wealth of knowledge and skills. All of that would be put to the test this year, for she had agreed to serve as the Decorations Chair, the person in overall charge of the decorating phase. It's a very stressful job, as it seems everyone needs a decision made about something at the same time. All sorts of last minute things crop up - someone gets sick and can't do a task they had promised, a mistake was made and there isn't enough of a certain material, someone puts the wrong thing in the wrong place - well, anything that can go wrong seemingly will.
Despite all this Carol persevered and got the job done. It made the finished float that much more special for both of us.
---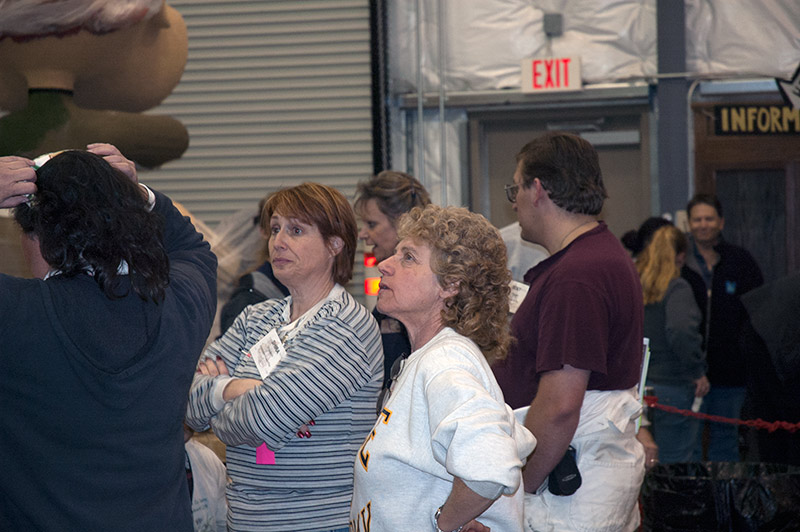 Here Carol and a group of volunteers is trying to sort out some issue that had popped up during the decorating. At this stage the work is underway around the clock, so poor Carol all but lived in the barn, escaping home only for some very well deserved sleep before we had to head back early the next morning.
---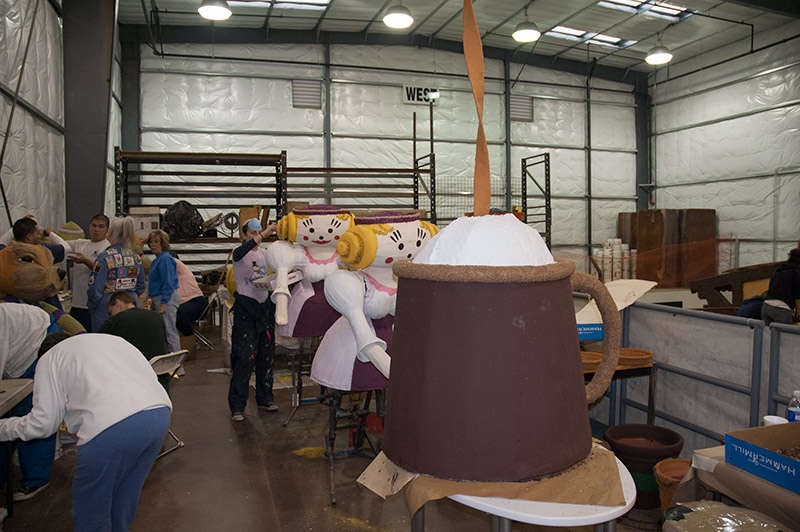 This is the upper loft level in the barn. During the construction phase you can often find people up here cutting dry materials and getting them ready for later use. For Deco Week the area becomes a whirlwind of activity with many of the smaller set pieces decorated here. In this view we have our beer stein and the two doll figures that would wave from the chalet windows.
---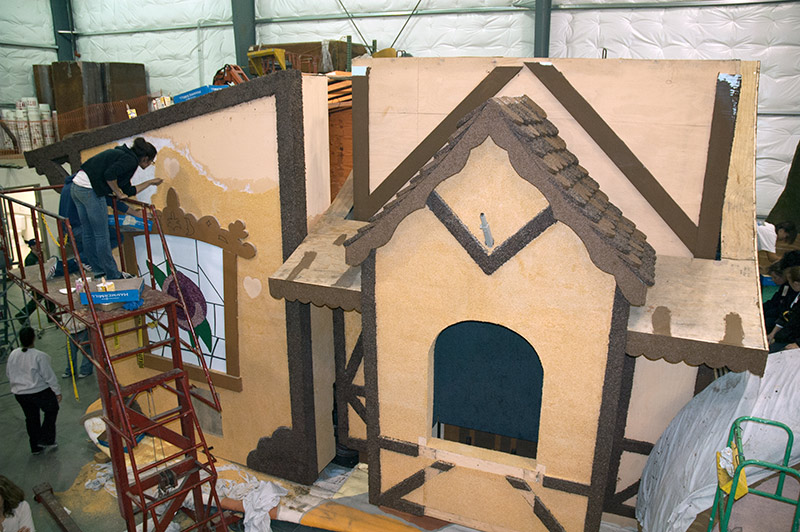 Having a giant structure on the float makes for a great design element, and can get extra points from the judges, but the downside is you have to cover all of the surface space. Looking down at the chalet from the loft shows just what a challenge the building posed. It needed a truly massive amount of dry material and an ocean of glue to decorate it, but at the end, it looked very nice indeed.
---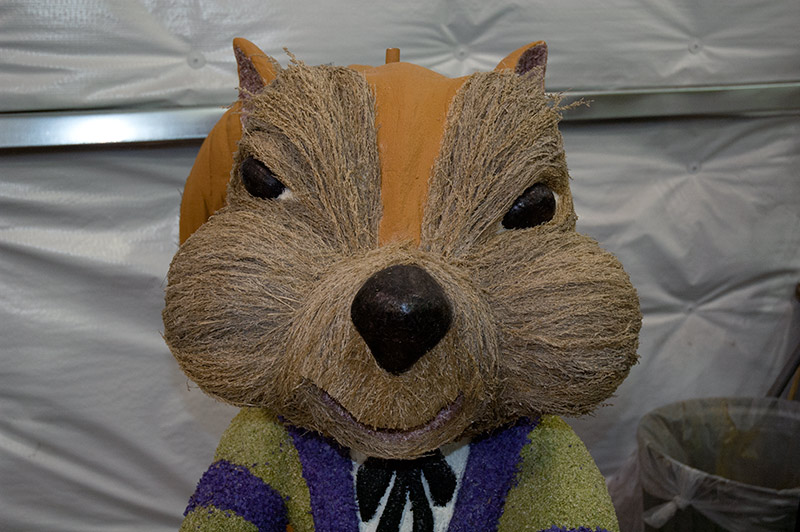 Here's one of our two horn playing squirrels. His fur is made from cocoa palm fiber that is pulled over a strip of nails to make it look like fur. We previously had a fair amount of fur on our bears on the 2005 float, but this time the material was laid out flat so it didn't look like the puffier fur on the bears.
---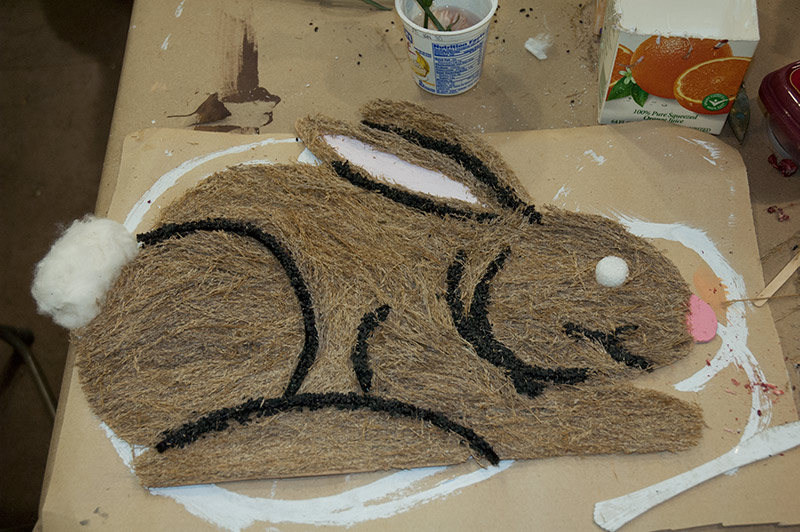 This bunny was also made to look like it was covered in fur, with a fluffy tail added as well. I mentioned in the description of our 2005 float that we like to hide bunnies in the design; this year we had a mirrored set of bunnies on opposite sides of the chalet. This one came home with us after the parade was over and Stacia has its twin.
---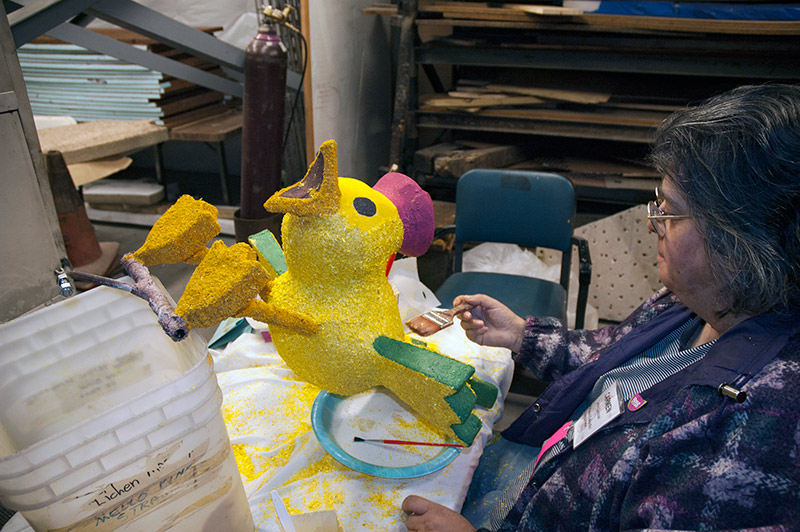 Our little cuckoo bird gets his time in the make-up department. As the picture shows it wasn't all done in one color; instead his feet and legs, the inside of his beak, his hat - all have different colors and shades to make him more interesting.
---
After several intense days of decorating we moved on to the first judging.
More about the design and building of the float