I've long been a fan of the classic transatlantic liners, with a particular fondness for the SS United States. I was never lucky enough to have sailed on her, but as a boy I loved any chance to at least see her at the pier in New York. Sadly the great ship was retired from service and has been sitting idle, rotting away for years, at a dock in Philadelphia. Even worse, the ship was gutted over the years and it would take a massive amount of money to return her to any sort of service, either as a sailing ship or a hotel. As of this writing (April 2010) she is up for sale once again, and unless a miracle occurs she may be headed for the shipbreakers.
I was in Philadelphia for several hours on April 9, 2010 and swung by the dock on my way out of town. I couldn't get very close to the ship, so I had to shoot through a chain link fence. The photo below isn't great by any means, but it does capture the ship as it sits today.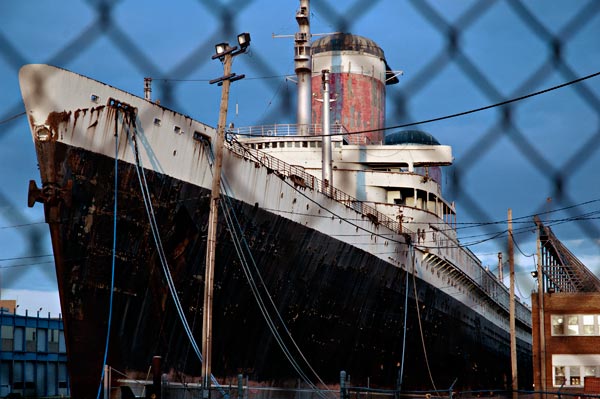 What a sad sight. The fastest liner ever built sits waiting an uncertain fate.
Philadelphia, April 9, 2010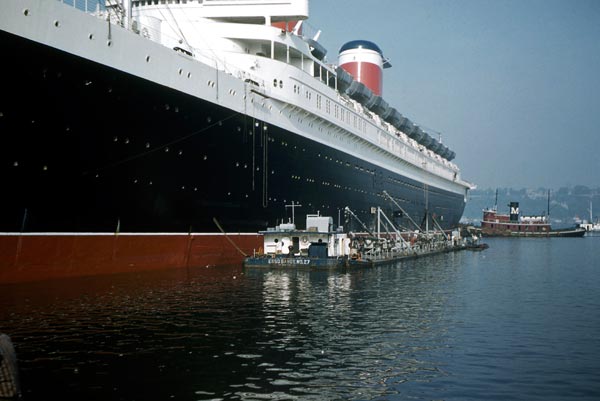 Here's a view of the SS United States in happier days. She's taking on fuel on a beautiful day in 1959, ready for another run across the Atlantic.
Here's another view from the same day in 1959. It's the closest I think I ever got to the ship, but even so, she was a beauty indeed.