1st Judging
Each float is judged by members of the Tournament of Roses Association from Pasadena three separate times. There are two judgings during Deco Week and a final one the day of the parade, immediately before the floats set out down Colorado Blvd. The judgings are very formal affairs and planned out like a military maneuver. The amount of time the judging team will spend at the float site and who is allowed to interact with them is carefully planned out so the smallest float gets the same amount of time and attention as the largest.
On December 30 the float was taken outside for the first visit from the judges. Here are some scenes from that day. Everyone was watching the judges at work - and keeping an eye on the weather. Rain had been predicted for the entire week, including New Year's Day.
---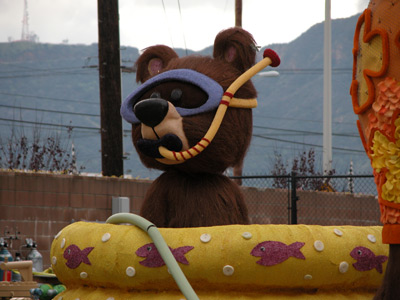 All of the figures were placed on the float even though there was still a lot of work to be done on some of them. For the 1st Judging the judges look to see if work has progressed to expected points, and how well that work matches up to the original concept art. Here Brother Bear sits in his wading pool.
---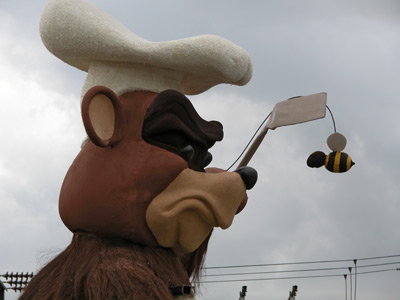 At this stage Papa Bear was still smooth and shiny, as his fur would be applied shortly after the judging ended. He doesn't look too happy with that bee.
---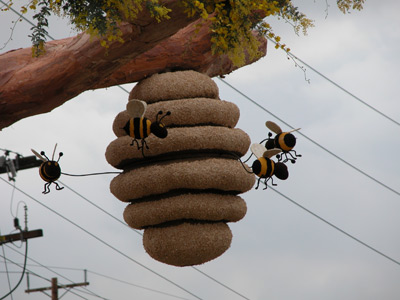 Here's a close-up view of some of the bees and their hive. A motor inside the hive kept the bees spinning wildly through the air during the parade.
---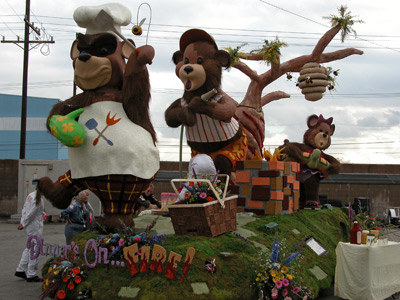 This overall view gives a clearer picture as to the decorating progress by this point. Large areas have already been covered by dry materials but there was still quite a way to go to meet the deadline.
---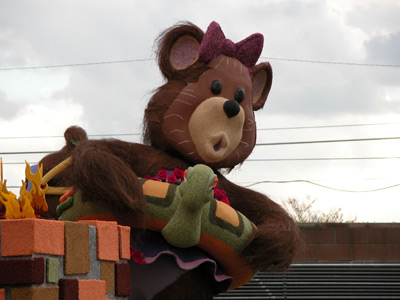 Sister Bear has had her fur applied by still needs the facial area finished.
---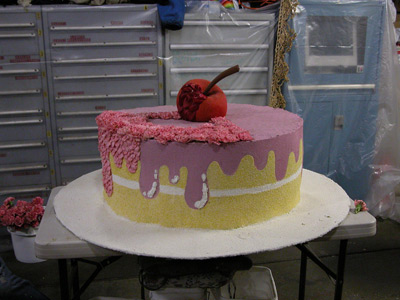 After the judges left the float was taken back inside for more work. It's fun adding elements like the cake to your design, but every single piece shown on the paper needs to be built and decorated. Here "icing" is being applied to the cake.
---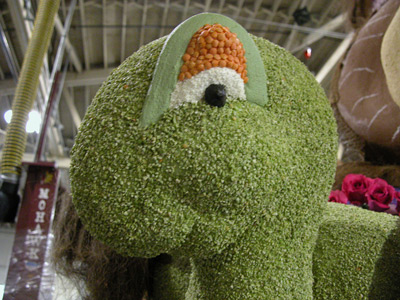 This close-up of Sister Bear's tube shows how much detail goes into a design element that will pass viewers by in around 30 seconds. They may not see it up close like this but attention to details helps present a winning story.
---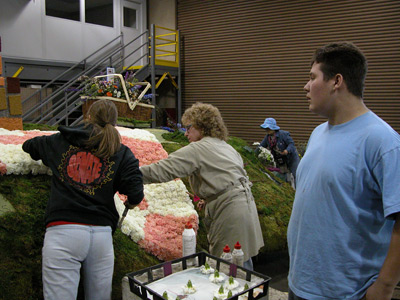 Carol, seen here in the center in the brown smock, is working on the flowers that covered the picnic blanket.
---
The next day would be the second judging. By now we were getting very nervous about rain on parade day. The forecast was 90% for not just rain but heavy showers.
More about the design and building of the float