Detailed designs
With the design locked down, it was time to start construction of the float. As I was quickly learning, there was a lot involved in the transition from a two-dimensional drawing to a three-dimensional float. Luckily for us the BTORA team had a lot of experience that made it possible
A number of teams were set up to handle a variety of tasks. One team picked all of the materials that would be seen on the float. For those unaware of the Rose Parade rules, all surface areas of a float must be covered in natural plant or flower materials - no man-made coverings, no artificial colors, no painted areas. There were numerous factors involved in deciding what to use, not the least of which was the limit on what live plants would be available many months later in December. A Fact Sheet issued later in the year provided a list of the main materials and other data on the float. Some of this would later change due to weather conditions making some of the plants unavailable or unsuitable in wet weather.
Here's a look at some of the artwork Stacia prepared to help in the color and material choices.
---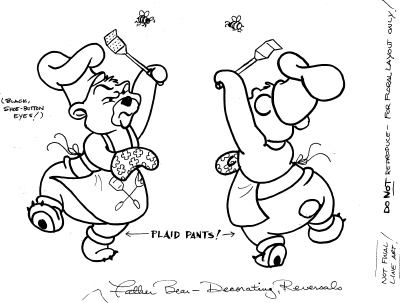 Papa Bear, who was battling the bee, would be seen in a brightly colored pair of plaid pants. He was designed to swivel on one foot, so the builders had a major challenge in weight distribution.
---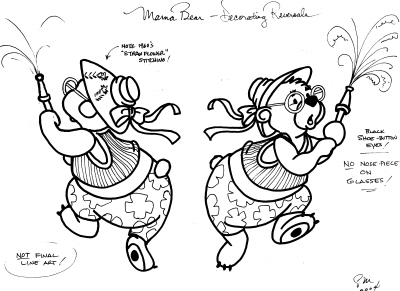 Mama's arms would raise and lower as she aimed water at the burning food. I had wanted real water to come out of Mama's hose, but wiser heads prevailed, saving those seated on the parade route from getting soaked on a chilly morning. A fake spray was constructed out of floral material on wire rods, which helped eliminate the weight of the water and a pumping system.
---
My favorite characters were the two youngsters. I had fun adding in the diving gear and tube for use in a tiny wading pool. Both would be seen turning from side to side as they watched their parents and the ruin of their picnic.
---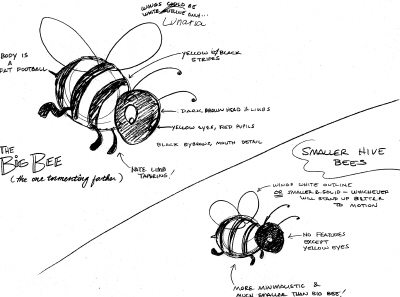 Every item seen on the float had to be designed and built to exacting standards. For example, until the size of the bees was finalized it was impossible to start work on the beehive. That in turn held up work on the tree so that everything would be in scale.
---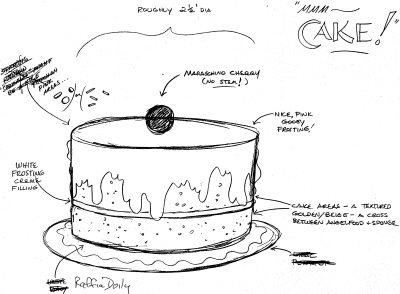 Even minor items like the cake and condiments were planned out well in advance of construction.
---
Once all of these designs were completed, more work was needed to figure out how to actually build everything.
More about the design and building of the float