Parade Day
Finally, after almost a year of work, the float was ready for the Rose Parade. The day was chilly but dry, at least for the parade itself. Afterwards it poured like mad.
We drove over to Pasadena very early in the morning, then after parking made our way to the float staging area at the start of the parade route. It was there that we got the happy word that after the 3rd and final judging the float had won the Founders' Award, presented to the float "Most Spectacular Built & Decorated by Volunteers From a Community or Organization." We were thrilled, of course. After a few quick interviews by the press we headed to the grandstands to see the parade.
It was chilly but the time passed quickly as we talked to the other float builders we had been seated with. As luck had it, we were seated next to the designers of the float that had also wanted to use bears in their design. Then, many months after we had begun working on it, we finally saw the float come into sight - and the crowd loved it!
---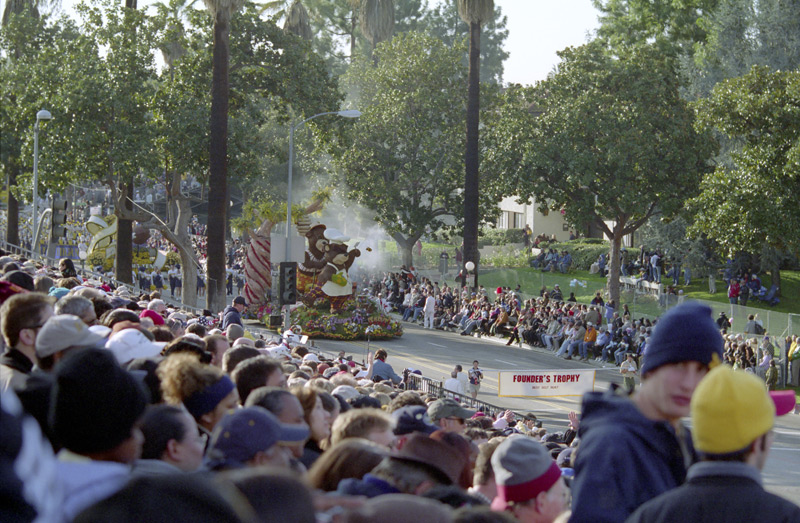 The float rolled into view amidst a cloud of smoke. Although the float description clearly mentioned the burning barbecue, a number of the television commentators thought the float was actually on fire. Perhaps our specials effects crew had been a tad too enthusiastic, but it looked great to us.
---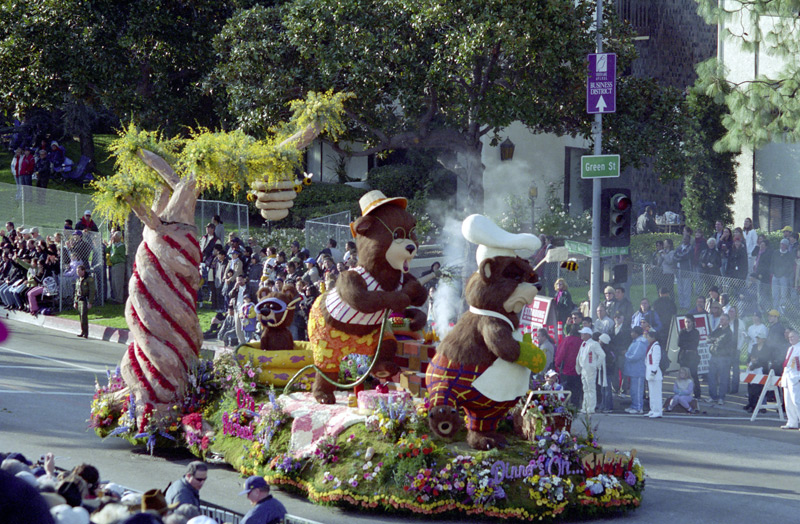 I grew up in New York and clearly remember watching the parade every year, never thinking that someday I would actually be there in person, let alone have a role in creating a float for it. I remember thinking that all of this had started with a crude stick figure sketch on my kitchen table. Seeing it in person was surreal.
---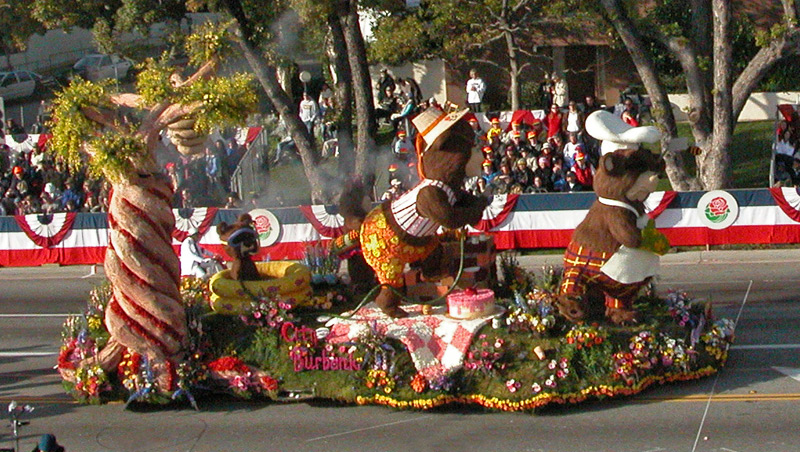 Everything on the float worked exactly as planned. The bees swarmed around the hive, Papa tried to get rid of one that was buzzing too close, Mama tried to help, the barbecue burned, the kids stared - and the tree lowered on command every time it needed to fit under a bridge, then even better, came up again.
---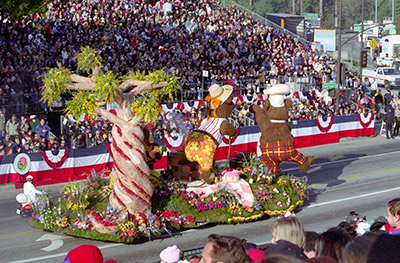 Then, all too quickly, the float passed by and went out of sight. At the end of the parade all of the floats were parked together for several days so the crowd could get a closer view. Almost as soon as the float ended, the rain came down. We had been incredibly lucky.
---
More about the design and building of the float