1st Judging
The Tournament of Roses Association has a very detailed checklist of what you need to do to get your float in the parade. Even after you get your designed and approved it's not given that you will be in the parade as there are numerous milestones to be met along the way. For example, you gave to demonstrate that the engine and drive train systems are all up to standards. Another test that must be passed involved the rapid evacuation of the float to show everyone can get off safely in the event of an emergency. The floats are all designed with that in mind, and must have a clear escape path, but the test then assures people can actually execute the plan.
The first round of judging is held two days before the parade. By that time the judges expect that certain percentages of the work be done so they can start ranking the floats for the awards, with some designs being more suitable for some awards than for others.
---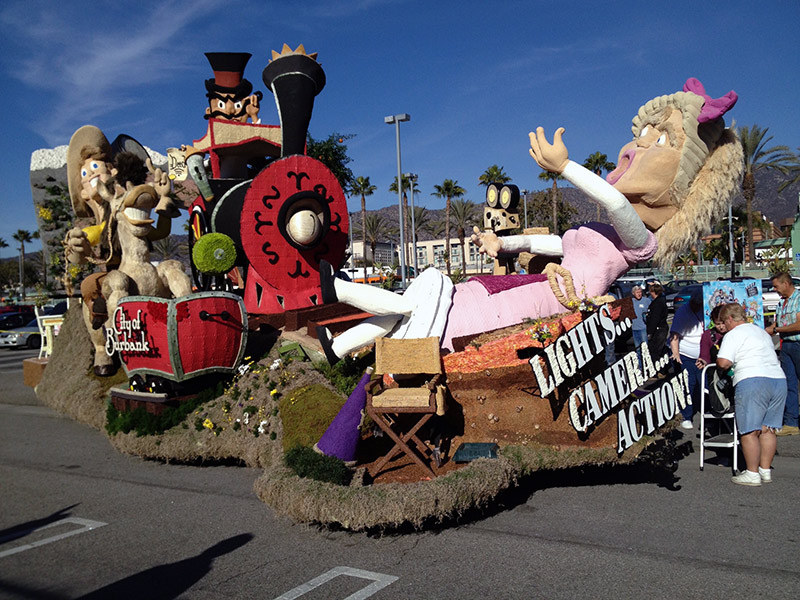 Here the float has been moved over to the parking lot at the nearby train station. I wonder what the folks on the real trains though of our runaway locomotive? The rear wall with the tunnel facade is being raised into position; it needed to fold down to fit under the bridges on the parade route.
At this stage there is still a LOT of decorating left to do. Some parts are pretty well done, others, like the title sign at the front, are part done, and some areas, such as where the roses will go, are still awaiting attention.
---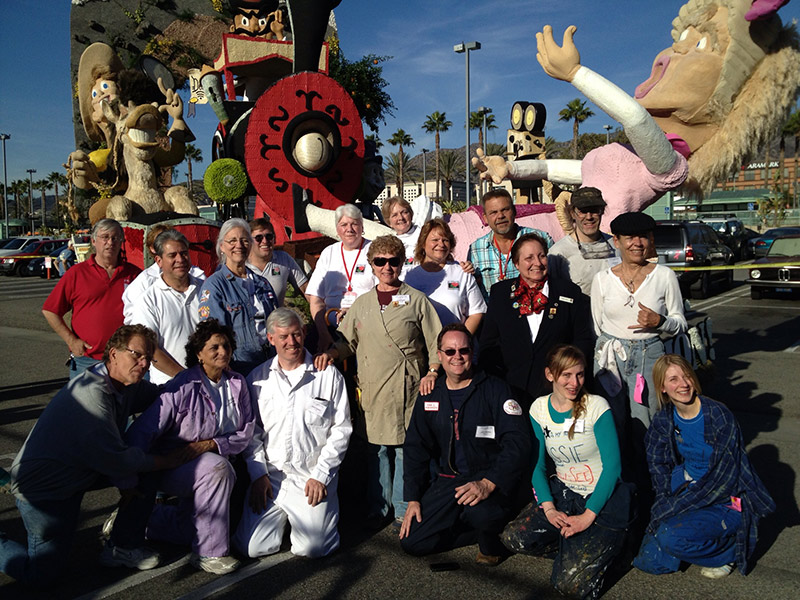 I can't seem to find any pictures for this year of the judges as they walked around examining the float. I do remember hearing some enthusiastic comments from them, and as this group picture shows, we were all feeling pretty good about their visit and our chances of winning an award.
---
We couldn't relax for long, though. The float was taken back to the barn and work went on throughout the night to get ready for the next judging.
More about the design and building of the float