Here's the official schedule for the day:
TIME
MILEAGE
ITINERARY (Description)
7:00
BREAKFAST Crane-Hill Cafeteria
8:00
LEAVE Laramie, via US 287 thru Ft. Collins, INT 25 to Denver
10:15
118 miles
ARRIVE: Denver, Colo. Exit INT 25 at "Speer Blvd" SE into city, turn left (east) onto Colfax Av. (US40) to State Capital, past U.S. Mint, 1st right past mint, park in lot behind Mint on same block.
11:30
LEAVE Denver (no later than 1:30) via Broadway, heading so. to INT 25, known as Cherry Valley Hwy.
12:30
55 miles
ARRIVE Air Force Academy, Nth Gate, Drive to main quadrangle, sightsee (no guide svce.)
DRIVER: past Falcon Stadium
1:30
REST STOP Gift shop at South Gate (missile in front)
LEAVE Air Academy by So. Gate via INT 25 so. bound for 3-1/2 m. to Garden of the Gods. Turn r. to G. of Gods.
2:15
22 miles
ARRIVE Garden of the Gods. Tour by bus. Balancing Rocks, Steamboat Rock
3:45
ARRIVE Colorado Springs, Colo. via Rte. 115 so. to Ft. Carson
4:30
15 miles
ARRIVE Ft. Carson, Colo., check-in Bldg. 1015 for assignment
EVENING ACTIVITIES
Supper, movies, swim?, Earliest poss. Taps.
Total miles
216?
From my journal of 1967:
Got up at 6:20. Packed up, ate in college cafeteria. Left at 8:05. Went to Denver and saw Capitol. Went to Air Force Academy, then went to Fort Carson. Swam at night and traded patches.
From a letter home:
Mr. Tobin is a great guy. Last night he gave me 5 neckerchiefs to trade for him in the next barracks. When I traded them for some neckerchiefs he had wanted, he gave me a Ten Mile River patch since I never have had one. It's a large jacket patch with 11 colors.

Denver was hit by two earthquakes, which were felt by some of us but not me. We saw the capitol and Tom Gavin and I went up all the way to the top of the dome. We also saw the governor's office and car.

We saw the A.F. Academy. It's still being built and will be something when it's done.
Well, we didn't get to do all of the items planned for the day. This was one of the few days of the trip with bad weather, so we had to pass on the Garden of the Gods. I remember we were running late due to a stop in Denver so Cory Morganstern could have the cast removed from his arm. Seems that he had run through a plate glass door earlier in the summer, and had left on the trip with his arm still in a cast. This wasn't the only memorable part of the visit to Denver, for there was a (very) small earthquake while we were there. Now that I'm living in Los Angeles I know how small it really was, but it was big news at the time!
I remember walking through the state capitol building and seeing a sign on the door of the governor's suite. Not knowing netter we walked in and asked the secretary if we could peek in the governor's office. Much to our surprise the governor came out and gave us the grand tour himself. We then walked out with him to his car as he left the office. We were quite impressed at how friendly he was, especially as we couldn't vote for him.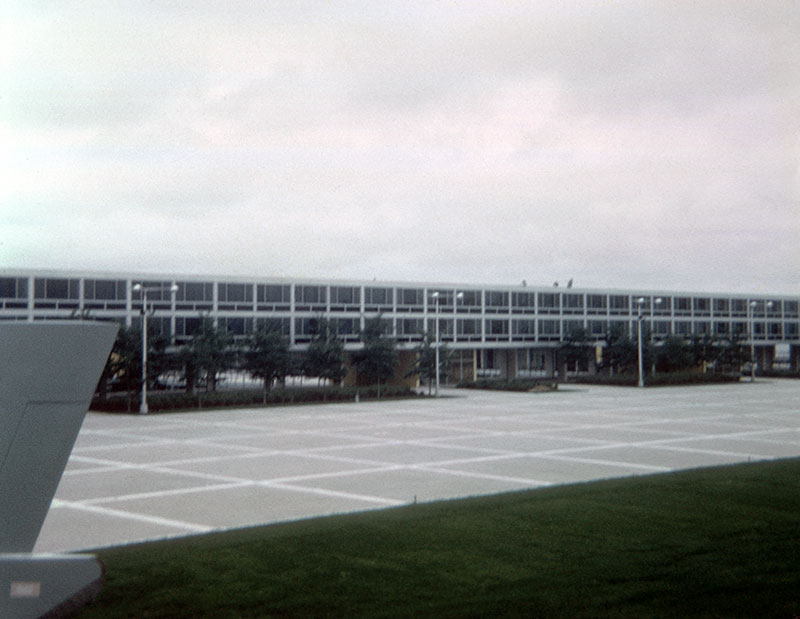 Air Force Academy Quad
As the picture shows, the sky was completely overcast. The quad was empty, as people with more sense were nice and dry inside.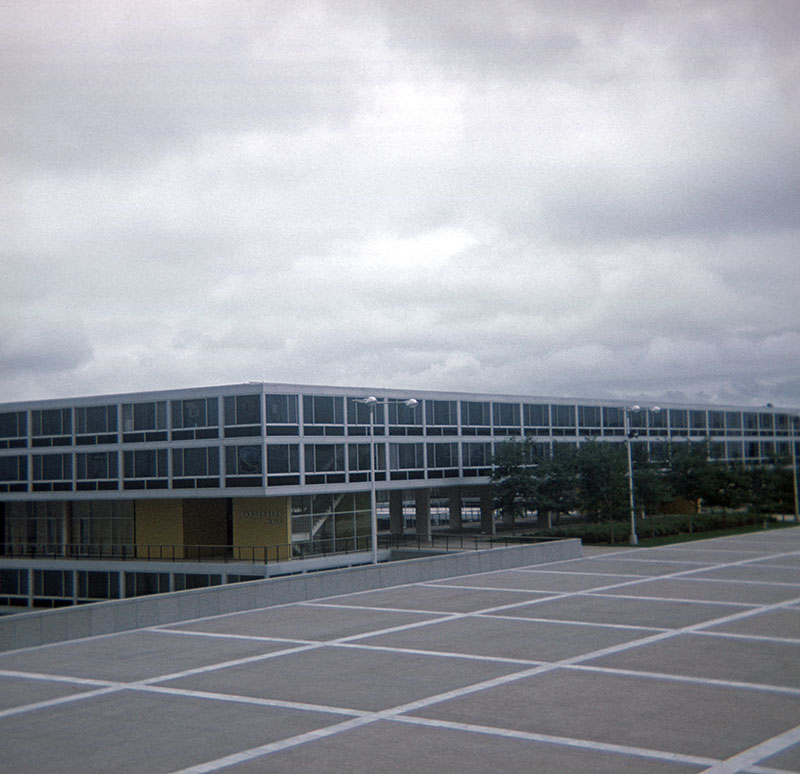 Stark angle on the Quad
Having been at West Point, I was surprised at the starkness of this service academy. The ultra-modern design of the buildings was carried over to the grid design of the pavement. Not a curved line anywhere in sight. This is Vandenberg Hall.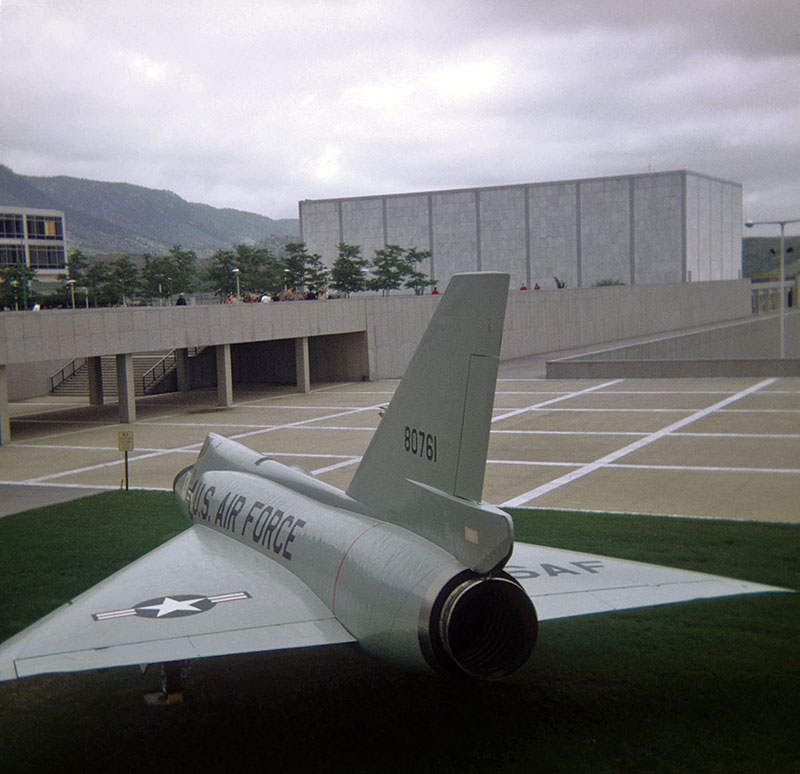 F-106A jet on display
The angular nature of the place carried over to this fighter on display. Evidently the plane, a Delta Dart, was later damaged in a series of student pranks and was taken apart to use in repairing other planes.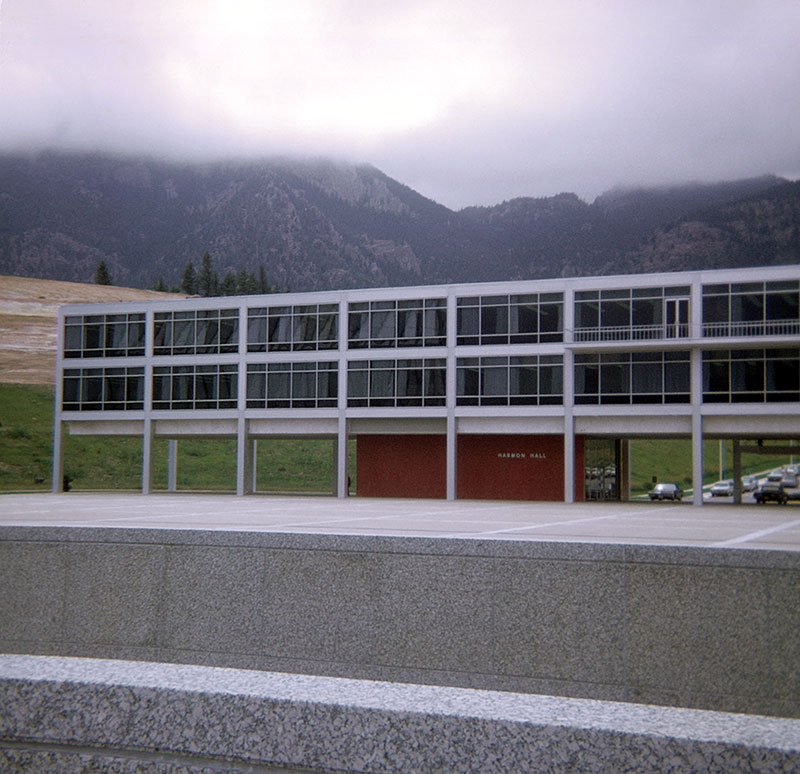 The clouds were just about down to the ground
The clouds had lifted a bit for this shot. It was the first view we had of the mountains surrounding the Academy. That's Harmon Hall, the main administration building.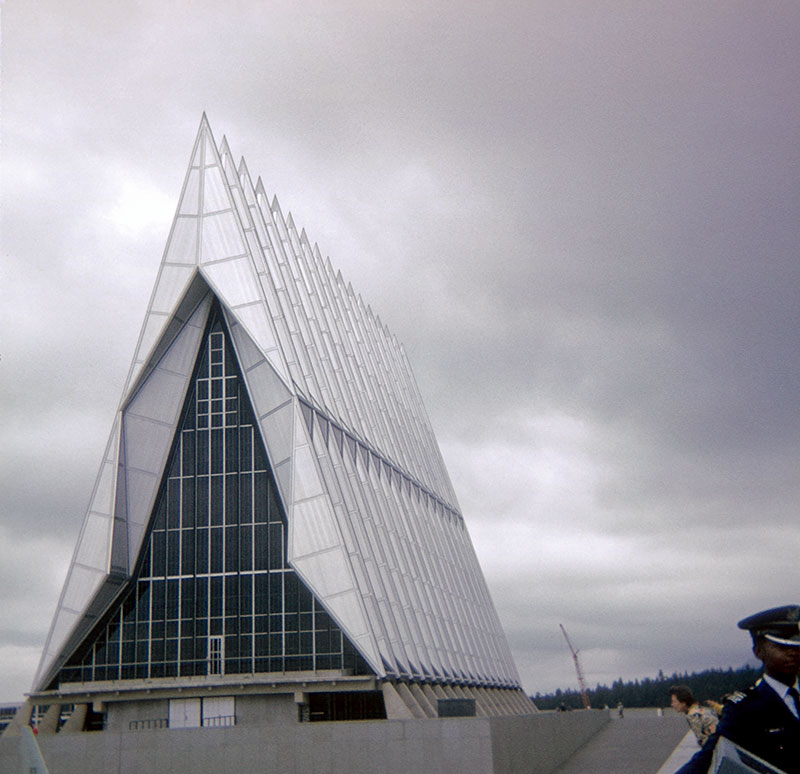 Cadet Chapel
More dramatic angles! The cadet off to the right was showing off the falcon that is the symbol of the Academy. There's a better view of them just below.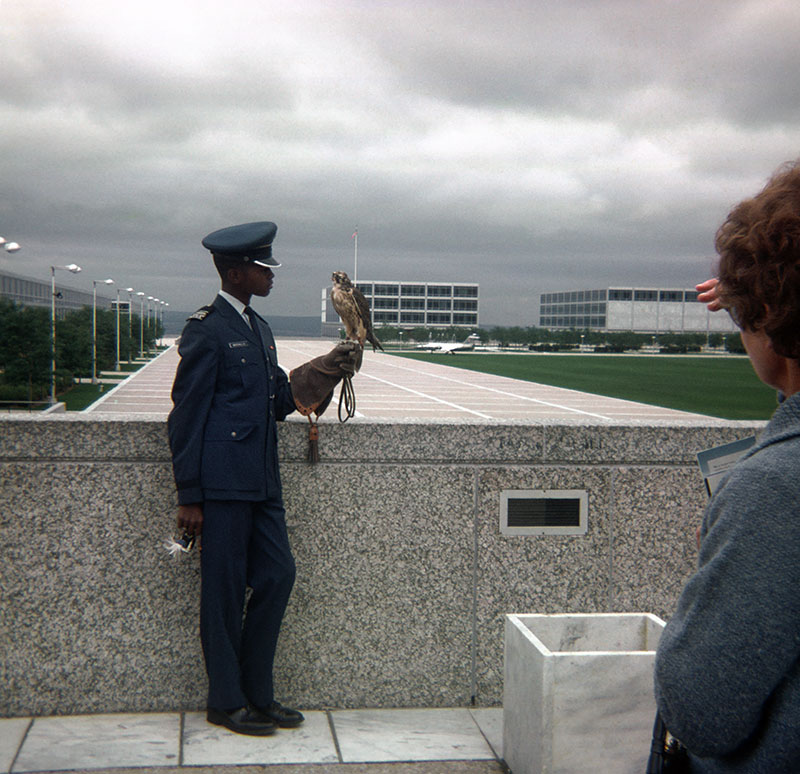 Cadet and falcon mascot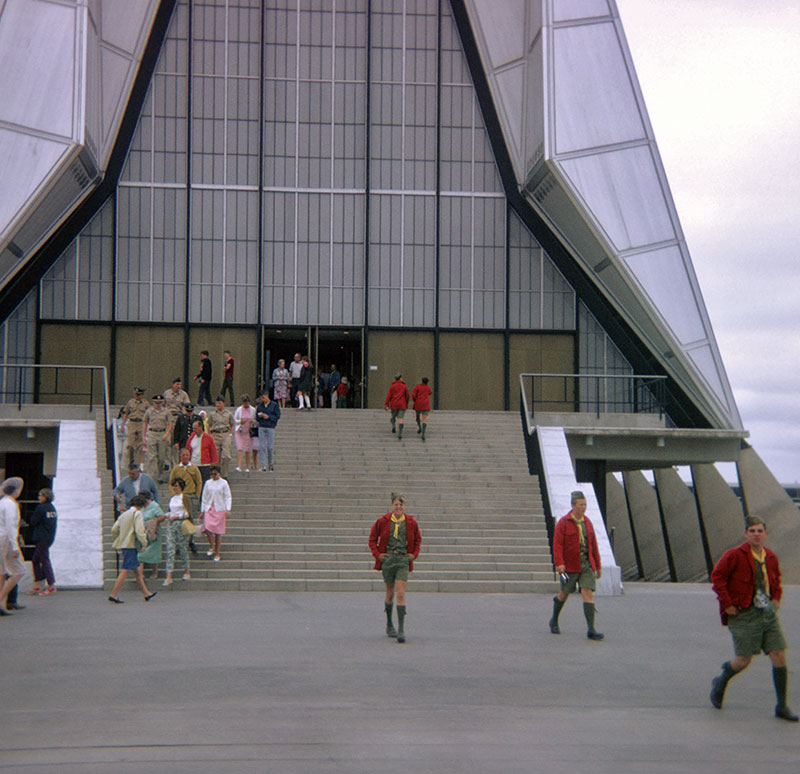 Jim Cotter exiting the Cadet Chapel, with Tom Gavin and Spencer Bell on the right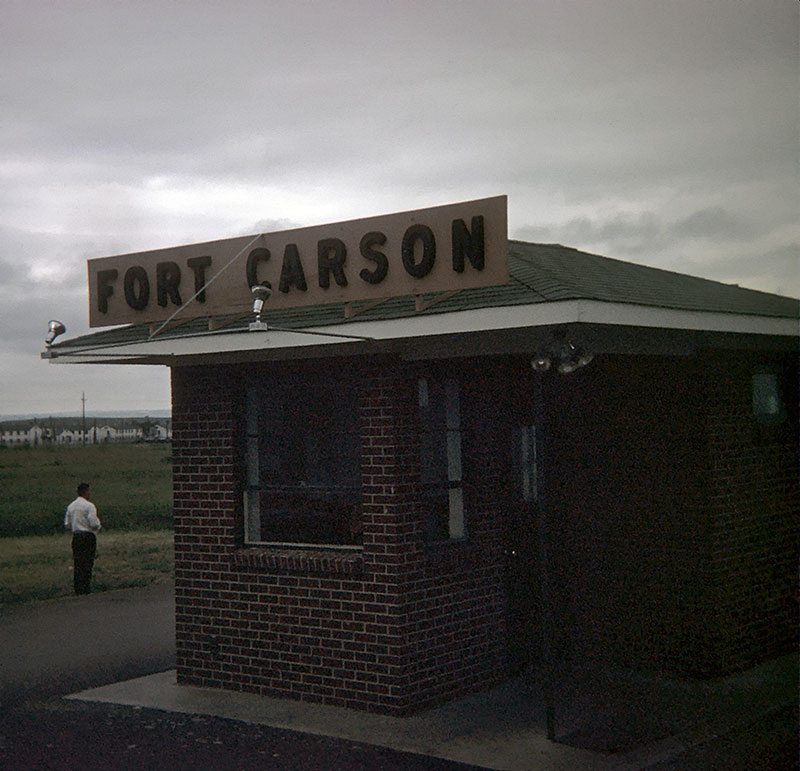 The entrance to Fort Carson
Another ancient military base - our last stop before Philmont!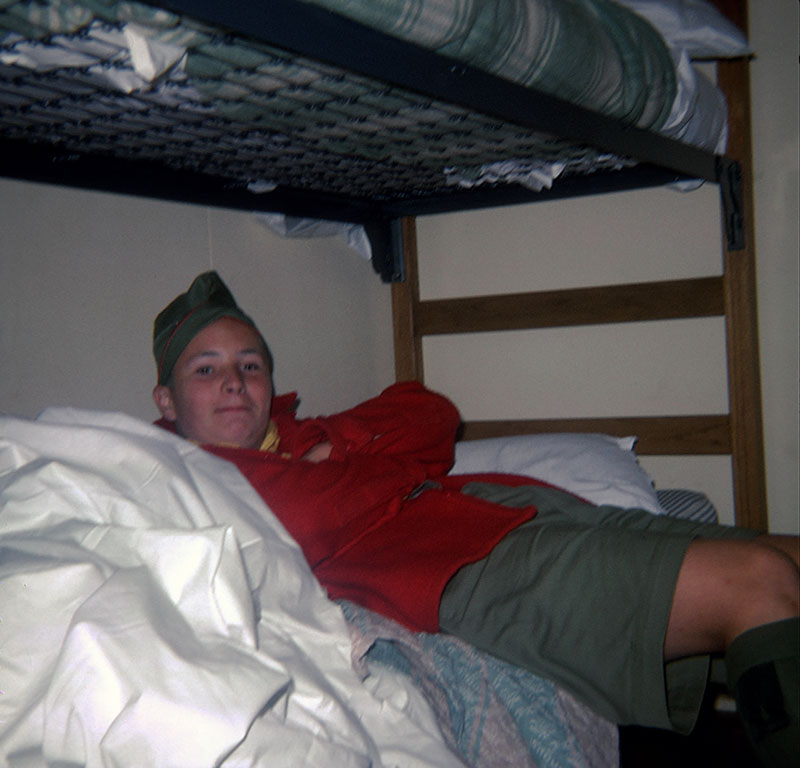 Tom Gavin at Fort Carson
I remember that it was very cold inside the barracks. Tom was trying to stay warm as we got ready for our last night in a real bed, or at least what passed for them in the Army.