Here's the official schedule for the day:
| | | |
| --- | --- | --- |
| TIME | MILEAGE | ITINERARY (Description) |
| | | CHURCH SERVICES |
| 8:00 | | BREAKFAST at Motel |
| | | Sightseeing in accordance with time allowance - Jamboree opens at 1 PM |
| | 40 miles | Rte 10 to Coeur D'Alene to Jamboree |
| | | LUNCH - sightsee - tour of Jamboree - supper |
| | | RET'N to Stardust Motel after Jambo. visit |
From my journal of 1967:
Got up at 5:30 & ate. Rode to Jamboree & arrived at 8:30. After orientation we walked around until 9:45. Catholic mass was in a natural amphitheatre. Very impressive, 4 languages. Met Nassau County Troop 27 (Troop 27). Saw B. Throop, S. Covell & P. Robbins. Went around talking to Scouts & trading. Saw & talked to Scouts from Nederlands, Mexico, Canada, England, Nigeria, Denmark, Sweden, Italy, Germany, Israel, Japan, France, Scotland, Ireland, Viet Nam & others. Had to leave at 8:30 - no campfire. Back to motel. Gavin, Bell, Jim & I again shared room. Heard small patches worth $6 each.
As you can see, the actual events of the day varied from the planned schedule. We started very early and headed off to the 12th World Jamboree, which was a real treat. There were thousands of Scouts from around the world, and we had a whole day traveling across the site and meeting them.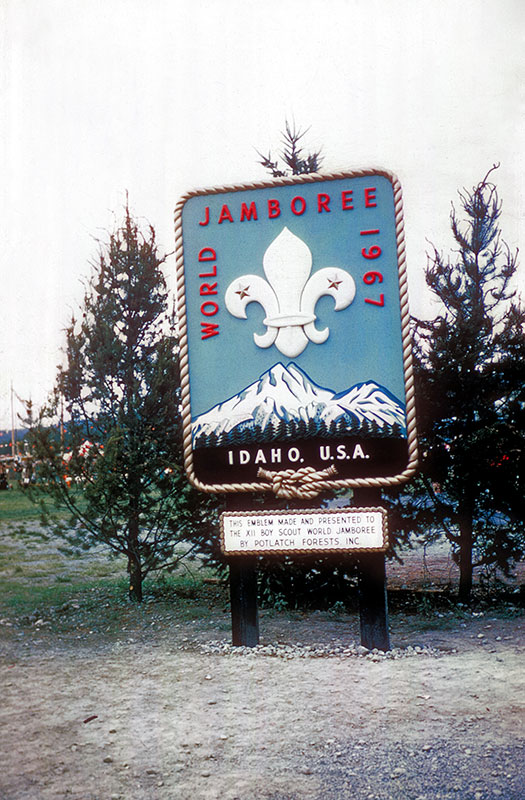 The Jamboree Logo
This sign shows the design of the Jamboree logo, which was seen on patches, maps, cups, plates, and yes, signs. The theme was "For Friendship". There were 12,011 Scouts from 105 countries (plus us!)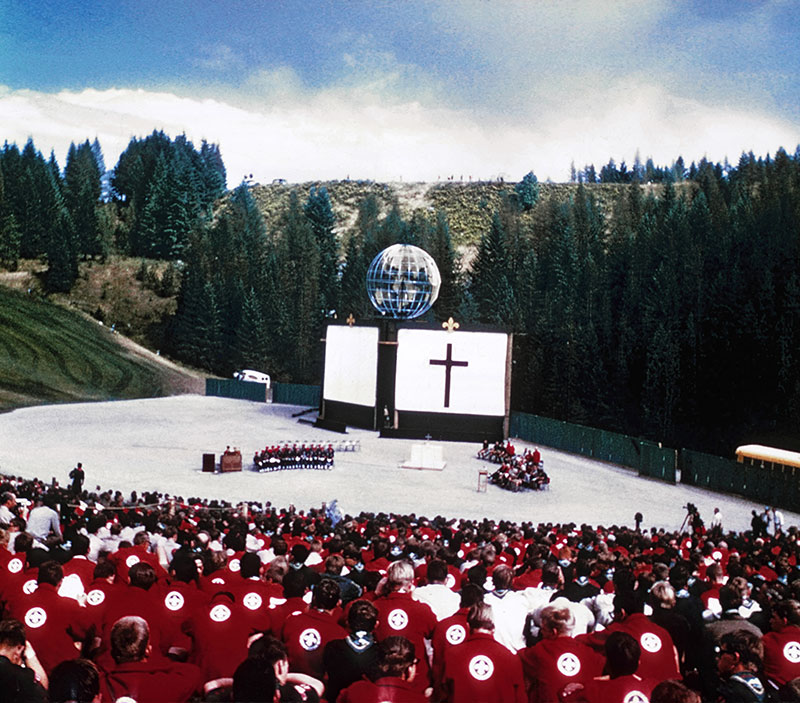 Catholic Mass
This was a very impressive setting for Sunday mass. A number of priests from the U.S. and other countries participated, conducting the service in four different languages. Here's one description of the service:
At the XII World Jamboree, held in Farragut State Park, Idaho, a Pontifical Low Mass for some 4,000 Scouts from 26 countries was celebrated by the Most Rev Robert J. Dwyer, Archbishop of Portland, Oregon. He was assisted by Archbishop Philip Hannan, Bishop Sylvester Treinen, 12 American priests, and 50 priests from other countries. A total of 11 Bishops participated in the Jamboree.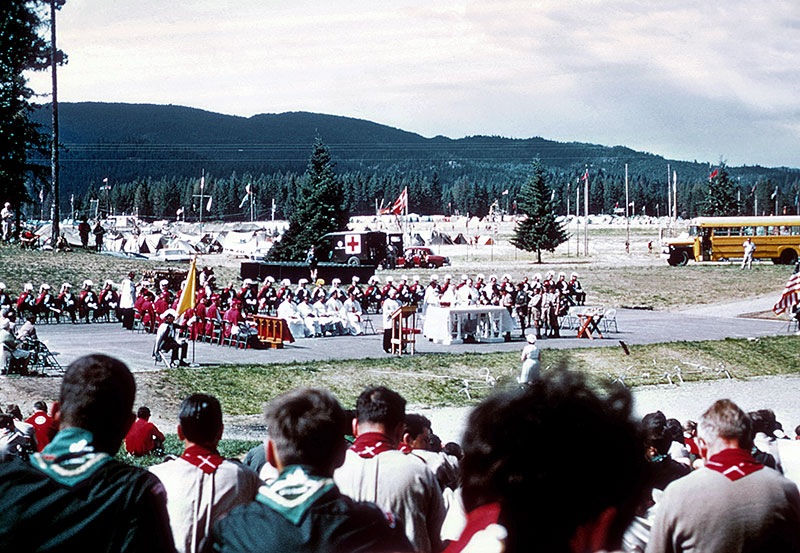 Protestant Services
I wasn't at this service and believe the picture was taken by Harold Snedeker. It looks like they used as many officials as we had at ours.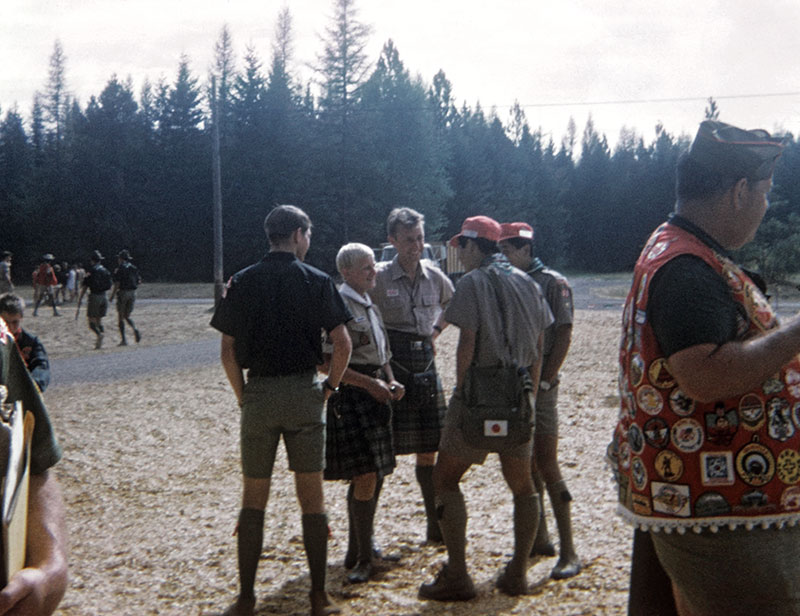 Patch trading session
One of the major pastimes was patch trading. Everyone was running frantically in different directions trying to find a good deal. I traded for some patches that I still don't have a clue as to where they're from or what they were for. Happily, things were rather low key, and there wasn't the pressure one finds today at all too many trading events.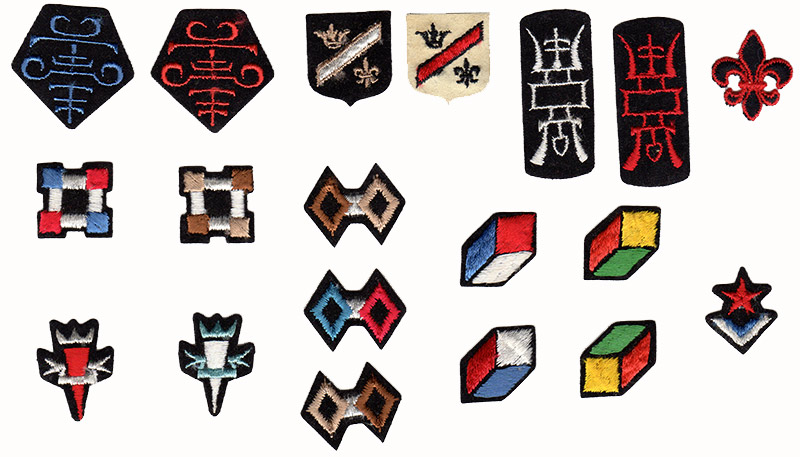 Unknown patches
Here are some of the oddball patches I picked up at the Jamboree. Please let me know if you can identify any of them.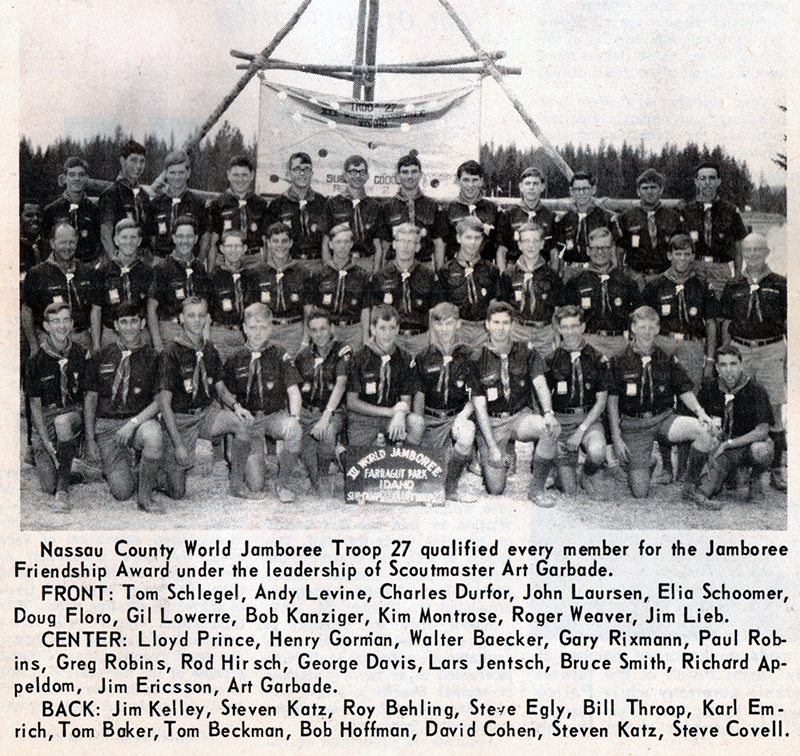 Nassau County contingent
Here's a look at the Nassau County contingent from the September 1967 issue of The Nassau Charger, the Council's newsletter.